"AUTHENTIC Personal Branding for Military Veterans & Spouses" three-module online course
"Graciela's ability to capture students' attention and educate them on the importance of personal branding is phenomenal. Every single student left her training with not only a new and improved personal branding statement, but also a new sense of confidence in their respective field." –Justine Evirs, Veteran Services Coordinator and Navy veteran, College of San Mateo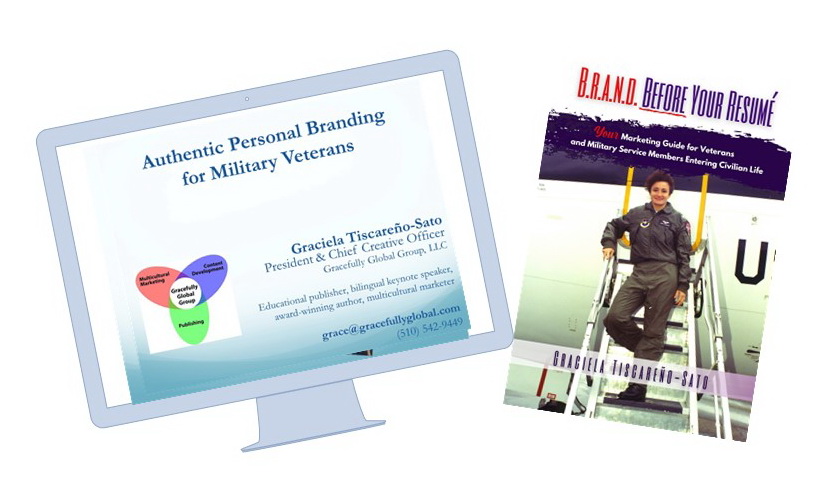 Military Veterans, Spouses and Transitioning Service Members
Are you having trouble communicating your distinctive experiences and achievements earned on active duty?
Are you feeling shy and awkward talking about yourself?
Are you struggling to get people to remember you long enough to call you for an interview?
Are you hesitant to talk about your earned awesomeness and the value you'll bring to a civilian employer?
Are you unsure of which words to use as you apply for university or grad school admission?
If you answered "YES!!" to any of these questions, this online course is for YOU. Join your fellow military veterans who've learned how to create their own AUTHENTIC personal brand for the specific audience they wish to influence during the transition process, for civilian promotion and beyond. This course was created by a veteran who has mastered the branding craft in both large corporations and small entrepreneurial settings.
Instructor: Graciela Tiscareño-Sato is an Air Force veteran and former aviator who left active duty with a master degree in global marketing and management. She's a proven marketing expert who's worked in the telecom, software and renewable energy sectors since her transition. She's since become an award-winning author, keynote speaker and workshop facilitator.  She's taught thousands of veterans in live and virtual AUTHENTIC Personal Branding workshops across the USA how to create their own compelling, memorable, unique branding statements. Read instructor's bio here.
Course: Graciela brings this critical workforce expertise to you in a three-module course you can enjoy at your pace, alone or with a friend or two. Result? You'll start to position yourself as the MUST-HAVE candidate and be comfortable doing so. Don't wait! The sooner you learn this CRITICAL skill necessary to be "known to other people" as a civilian, the sooner you'll find yourself surrounded by people who want to help you succeed!
Offer includes a copy of Graciela's Amazon Bestselling marketing guidebook titled B.R.A.N.D. Before your Resumé – the first-ever Personal Branding Book written by a veteran for the military community. It uniquely features nearly 30 examples of targeted personal branding written by military veterans who Graciela has personally coached.
"…veterans all found the training extremely helpful!  Not only was the information pertinent to a diverse audience, but it was practical and sophisticated advice." – Joanna M. Arteaga La Spina, Program Coordinator, Vets Connect at the Library, East Palo Alto Public Library, CA